Twinning Visit
Shelford to Verneuil-en-Halatte
1st – 4th April 2017
From a child's perspective – by Sally Hudson
From Saturday 1st April 2017 to Tuesday 4th April 2017 a selection of people from Shelford went on a trip to Verneuil-en-Halatte. We went by coach and P&O Ferry.  It was a long journey, but we eventually arrived and were greeted by our French hosts. At 07:00pm we all met each other again at the nearby school hall where we had a fabulous party and there was a lot of food to be eaten!!
On Sunday, we spent the day with the family we were staying with. There was a huge range of things to do for example: exploring Chantilly castle and gardens, going on a bike ride or having a terrific time at Asterix theme park.
The next day, we visited Parc Samara, a prehistoric park where we had a tour in English and were shown how humans have changed since cave men, as well as exploring houses which were completely different to our modern ones. We also attempted making fire and hunting mammoths (straw bales!!).
We were all sad to leave, but we had one last activity for the children visiting a French school – comparing the differences between English and French education. For the adults, there was a tour round Senlis, a French town. After a light lunch, we headed back the England and the home to Shelford.
Of course, none of this could have been done without Sarah Haddow (who was unfortunately ill on the day of departure, so couldn't come) and Colin Jefferson! We are so very grateful for their help.
An adult's first twinning trip – by Kirsty Lothian…
For me, this was starting a new adventure, a step from the comfort of the known to the unknown, something new and exciting. If'm honest, I was a bit nervous. Even though I had been to France many times, I had never been on such a trip where one is staying with a family one has not met before! As we left Shelford on a coach, the group were united with a willingness to embrace the unknown, but we were also sat safely in the knowledge that the experienced Shelford Twinning organising team were leading us and had done this all before!

Departing with a mixed group of people of all ages from Great Shelford and surrounding areas, we headed for Dover and then on to our Twinning Village, Verneuil-en-Hallate (near Chantilly, north of Paris).

Verneuil is a beautiful French village with all the important landmarks that the 'Tricolore' textbook had illustrated back at school. Convenient for lots of places of interest, such as the stunning Château de Chantilly, and not too far from the north of Paris.

Stepping off the coach in France, we were greeted by a very friendly bunch of villagers who very quickly made me realise the special opportunity the Twinning Association gives. There was genuine warmth, and it melted any anticipation. We were greeted by an eagerness to make you feel welcome and I soon realised that this was going to be a unique opportunity.

My seven-year-old son and I had exchanged some photos and brief messages by email with our twin French family, so when they arrived to pick us up we were very happy to finally meet and quickly felt very relaxed. An hour later, the events of the trip quickly started to unfold with a social gathering in the village school to kick start the new friendships. There was a fun team building game for the children and a very relaxed atmosphere of a 'bring and share' meal with wine and fun!

Talking to our family, we clicked and laughed and realised so many similarities between our lives. We communicated using a mix of English and French and it was nearly always aided by 'Google translate'! The next day, much like the first sunny warm Sunday of the year at home, the BBQ, chairs, and umbrellas were dusted down and cleaned up and soon we were enjoying a memorable time sitting, eating and chatting outside in the warmth of the sun and French hospitality. The rest of the day was built around small boy Lego building, mountain biking, sight-seeing and geocaching! We were so lucky to have such a welcoming and warm family and we felt so at home. For them, it was back to normal life the following day with work and school, but we were provided with a packed lunch and taken to be regrouped with our 'English' village friends for a day trip to Parc Samara near Amiens. This was organised and attended by some of our French friends who joined us for the day.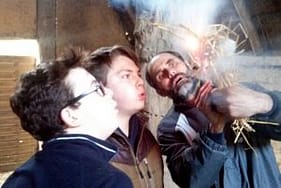 Samara is a prehistoric park that looks at the development of civilisation. We were treated to a daring hands-on 'how to make fire' and a 'throwing spears' session. Children and adults alike all had lots of fun and enjoyed the relaxed atmosphere while learning about the prehistoric times. The sun was shining and we found that we had also been joined by a class from the local primary school in Verneuil-en-Halatte.
The next day, some of children from our group went into the school in Verneuil and we built on what we'd learned the day before; looking at words in French and discovering the English for aspects of prehistoric life.The children and teachers in the classroom were very welcoming and they were very interested in us.
We finished our trip with a joint farewell meal in the village hall and were chauffeured in the coach back to where we had started 4 days previously.

I came back with a renewed sense of local community spirit, but also connection to the amazing community spirit of Verneuil-en-Halatte in France. It was a wonderful reminder that there are so many similarities and parallels that unite us across the channel and we are essentially very European in our outlook and the way we live. Thank you to all the organisers both home and away. I look forward to more Twinning adventures!
A third visit – by Tamsin Mann
This was our third trip to Verneuil with the Twinning Association. Undaunted by bad and then appalling weather in 2015 and 2016 respectively, Astrid and I packed our macs for what we knew would be four days of fun in France making new friends and seeing some now familiar faces.
Astrid is a very keen 'twinner' and although still only 7 years old she really looks forward to the visit and throws herself into it. For me, it's an opportunity for quality time with her and a chance to share my love of the French language and culture: when she's in the mood! Much more exciting for her is seeing who's on the trip this year: some classmates from Y2 this time, the older children she enjoys spending time with, and a few new friends in waiting. They start off a little shy with each other but by the time we're heading back on the ferry they're huddled around a table playing 'stop the bus'. I really like the intergenerational nature of this trip, it's a pretty rare thing these days but very good for all of us to make an effort and get to know new people.
We've stayed with a different family on each of our trips so far but that's nice because we're getting to know plenty of people on the French side.  As usual, since Le Comité de Jumelage de Verneuil makes an effort to match visitors and hosts, the family who welcomed us had children roughly the same age as mine – 4 and 6ish. We'd barely arrived when Astrid and Zoelie disappeared to play in Zoelie's bedroom, language really isn't a barrier when you've got lots of Barbie dolls to choose from and the international language of Disney to fall back on.  For reasons of space, we spent the night at Zoelie's grandma's house but that worked really well too – it changed the pace and meant we got to know Claudine and Claude who are now officially honorary French grandparents!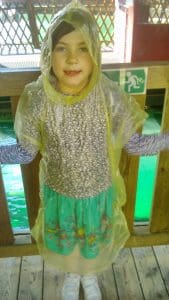 Sunday was spent at 'Le Parc Asterix', a nearby theme park which was definitely the highlight of the visit for Astrid – 'le grand splatch' in particular – and was a great trip down memory lane for me as I loved reading the Asterix books years ago.

Monday was a group trip to 'Samara' which, I have to be honest, I was a little doubtful of for an entire day out but, hey, the sun was shining, I didn't have to drive, or think about making a packed lunch so what's not to like? And it turned out to be a very interesting day which included MAKING FIRE and throwing spears as well as some archaeological reconstructions. And there was a shop, Astrid's second favourite pastime after getting soaked to the skin (see 'le grand splatch').

Tuesday came around all too fast. Astrid spent the morning at school while I went to Senlis with the over 12s. The first time she visited the school she noticed right away how small and hard the playground was compared to Shelford School's – we reflected on how lucky we are to have that space and made me think how important it is for her to see other environments. She enjoyed being the focus of many questions from the French schoolchildren and was given a confidence boost by having visited before and knowing one or two of them. For my part, Senlis was lovely and definitely a town I'd like to explore more. We coincided with market day and I had to exercise restraint!
You can't escape the fact that the return journey feels very long – even if you have stocked up on French treats and snacks. But regular stops and an earlier ferry crossing helped to minimise the cries of 'are we nearly there yet?' and almost as soon as we'd got off the coach Astrid was asking whether we could go again next year. Of course, 'bien sûr'. I really recommend the trip to any other families – or parts of families – who want a short but deep immersion in French culture, a chance to strengthen or renew European links, or simply a hassle-free break from the norm with added 'je ne sais quoi'.